Orkut Themes
Are you Orkut-addicted? Bored of the usual theme? No worries now :) I have found two cool themes that can be used to change the present interface of Orkut. But remember, you need Mozilla Firefox and Greasemonkey.
NEW THEMES HAVE BEEN ADDED! CLICK HERE!
FACEBOOK THEMES ALSO ADDED HERE!
Emma Watson Theme
Download this theme from here.
SRK Theme
Download this theme from here.
Daniel Radcliffe Theme
Download this theme from here.
And many more have been added here.
Themes below don't work any more.
Here's the first one called Hotmail theme.
Download the script from here.
And this is the second theme called Matrix.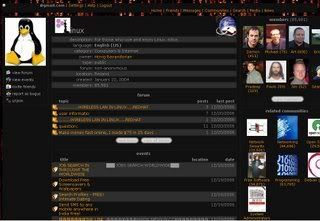 Download the theme from here.
If you have links to any more good Orkut themes (for Greasemonkey), post them below. I'll add them in the list.
That's all for today! See you guys tomorrow.
Enjoy!
UPDATE (June 9, 2008): You all must be waiting for my reply… Sorry, to make you wait, friends. A few days ago, these themes stopped working, and I was testing them if any of them could work in any way. But unfortunately, these themes are not compatible with the latest changes in Orkut. A new set of compatible and working Orkut themes will be posted by tomorrow. Keep checking back!
Was this post helpful? Follow us on
Twitter (@SizzledCore)
or become our
Facebook fan
for all the latest updates!