YouTube and Google Account – Single Log In

Well, for all those YouTube fans out there, you can now enjoy Google account and YouTube on one login. Now you have one username and password less to remember :) . You can easily move all your data Youtube data to your Google account.
All you need to do is link your exisitng/new YouTube account with your Google account. Everything remains the same except that a new YouTube icon will show up in your Google Account Services page.
Read below to see how you can link both of your accounts.

How to link your YouTube and Google account
It's very simple. Click on Log In at the top right of the main page. Then below the YouTube Username and YouTube Password box, you will see a link Link Accounts.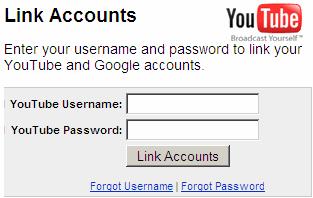 Click that, and you will be asked for your Google account username and password. Input that and it's done!
If you don't have a YouTube account, then you can create one while linking your Google account. See… Google has made things a lot more easier :)
Sign Up for YouTube with Your Google Account
How to unlink them
Unlinking your both accounts is also very easy. Just visit the unlink page and your both accounts will no longer be associated with each other. But remember, you will no longer be able to login with your Google account on YouTube.
Was this post helpful? Follow us on
Twitter (@SizzledCore)
or become our
Facebook fan
for all the latest updates!